ADA & WCAG Compliance Gets Our Attention Again
Background
In 2019, before the pandemic, it became apparent that as website designers, we needed to provide our clients with a solution that prevents them from being sued for not being ADA compliant. Many lawsuits were being filed, and this seemed to be a problem we thought could be relatively easy to solve.
We found a plugin from a software developer that could tell us what parts of a website were not ADA-compliant, so we could change the code to make it compliant. To make a long story short, while we had eliminated most of the large issues, some issues couldn't be fixed without a drastic redesign of the website. We left this issue alone and fixed about 80% of the issues for those clients who agreed with us that this compliance issue needed to be addressed.
Well, times have progressed, and this issue of a website's ADA compliance has come to our attention again, especially with the democratic party's recent win and the agenda on their timetable, which is to adopt a more California-style of governing, meaning more regulations.
I asked for a legal opinion from our attorney, Robert Rosenfeld, Esq., and he stated that "we should advise all our website clients to get their sites ADA compliant and follow the Web Content Accessibility Guidelines to prevent the possibility of a lawsuit from being filed against them."
What is the WCAG?
WCAG stands for the Web Content Accessibility Guidelines. The Web Content Accessibility Guidelines (WCAG 2.1 guidelines) are arguably the most influential protocols shaping web accessibility policy.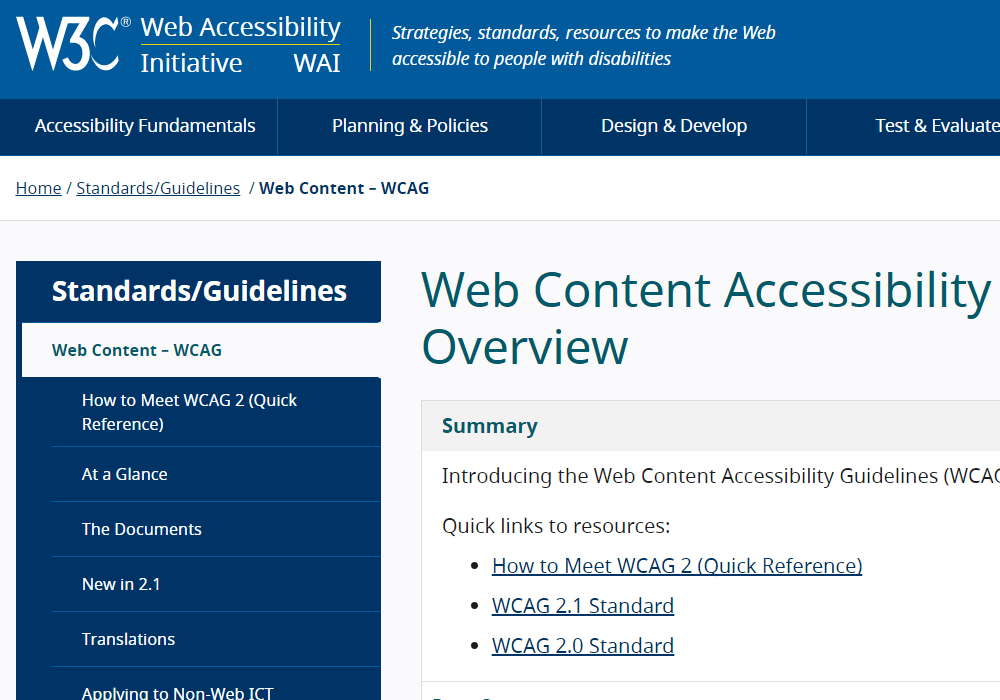 Why should I care about WCAG Compliance?
To really understand why the WCAG matters so much, you need to know who is behind them. The WCAG was created by the World Wide Web Consortium, known as the W3C. The W3C was founded in October 1994 in the halls of MIT's Laboratory for Computer Science (MIT/LCS), when global web activity started soaring. Founding members included top scientists, and by late 2019, the organization has over 440 members, including leaders from businesses, nonprofit organizations, universities, government entities, and relevant industries.
The development of web accessibility standards was one of the earliest issues to be addressed by W3C founders in the mid-1990s. However, it would take several years before a coherent set of standards would be published. In 1998, a 25-point document on best web accessibility practices was put forth by the Trace R&D Center at the University of Wisconsin, a collaborator of the W3C. This served as the basis for the first version of WCAG, published the following year in 1999. Almost ten years later, at the end of 2008, the WCAG 2.0 was released. Today, the updated version WCAG 2.1 is the W3C's standard on web accessibility and the one we follow today.
W3C originally focused on standardizing web protocols so that websites and web tools would be compatible with each other. Every W3C standard is reviewed several times, tested, and analyzed before it's approved by members. Usually, W3C standards have 3 levels of compliance, from A to AAA.
Check Your Site
The 4 principles of WCAG
The full WCAG 2.1 is incredibly long and complex, with many different points and requirements, but they're all based on 4 essential principles: perceivable, operable, understandable, and robust. Some believe that there's a WCAG 2.1 checklist, but in reality, it is more complex than that. The first step for achieving WCAG Compliance, It's to understand Its principles:
Perceivable - this refers to the ways that users perceive content online through their senses of sight, sound, and touch. This includes issues like captions for videos, text that can be adjusted for contrast, color, text size and spacing, font, and similar factors that make it easier to read.
Operable - operability means the ways that someone can use the site. It's particularly relevant to people with motor disabilities, weak muscles, injured limbs, etc. An operable site needs to be navigable entirely by keyboard, sight-assisted navigation, and other alternatives to a classic mouse.
Understandable - understandable sites are easy for everyone to understand. They don't use many technical terms or complex jargon, don't have complicated instructions that are difficult to follow, and have consistent directions that won't confuse readers.
Robust - there are two factors for a robust site:

Using clean HTML and CSS code that meets recognized standards
Being compatible with assistive tools that people with disabilities use to browse online
How does WCAG affect accessibility laws?
The WCAG isn't a set of laws that can be enforced, but many governments have adopted it as the standard for their accessibility regulations. Below is a short overview of international accessibility laws that rely on WCAG guidelines. Effectively, WCAG compliance is the best means for achieving compliance with most worldwide legislations.
WCAG-related regulation in the United States
In early 2018, the updated version of Section 508 of the Rehabilitation Act of 1973 came into effect. Section 508 requires that every online platform run by federal bodies or any organization that receives federal funding must be accessible for all users. Under updated rules, these sites have to comply with the WCAG 2.0 Level AA.
When individuals in the US have sued businesses with websites that aren't accessible, under the Americans with Disabilities Act (ADA), courts have required those websites to reach WCAG 2.0 Level AA compliance. You'll often hear the term WCAG ADA Compliance. That means the best way to comply with ADA is by following the WCAG.
WCAG-related regulation in the European Union
In 2010, EU officials adopted WCAG 2.0 Level AA as mandatory for all official EU sites and expanded that to all public sector web platforms, including WCAG 2.1 in 2016. The E.U. also adopted WCAG 2.0 as the standard for the new European Accessibility Act, EAA, which will become law in 2025.
WCAG-related regulation in Canada
In June 2019, the Accessible Canada Act (ACA) was passed into law by the federal government in Ottawa. The ACA requires a large number of public and private sector sites to become accessible, according to WCAG.
Several provinces have also passed accessibility laws, such as the Accessibility for Ontarians with Disabilities Act of 2005, AODA, the Accessibility for Manitobans Act (2013), and the Nova Scotia Accessibility Act (2017), which all use the WCAG as the standard for compliance.
See the following articles:
We Found the Ideal Solution
Even though WCAG has no legal authority, it has achieved global recognition as the most important set of accessibility standards and is enforced to varying degrees by most major countries. The issue is not going away, and the legal field seems to have discovered another panacea, which at the end of 2022, seems to have grown in momentum again as of late.
We needed something which could dynamically change the website's appearance, as needed, at the user's level when viewing our clients' websites.
The solution we found is what's referred to as an accessWidget that uses artificial intelligence (AI), which, when installed and combined with our CSS capabilities, will not change a thing for the majority of users. It will only be activated when turned on via the interface (or by a screen reader if the user is blind) and only for the user's specific session. Therefore, accessWidget won't affect our design, user interface, or performance at all. We don't have to go in and redesign the site, spending hours. The entire process is automated, from remediation to becoming compliant. Additionally, the accessWidget doesn't collect user data, so it doesn't affect our customers' GDPR compliance.
It works on nearly all web browsers, on any OS, with assistive technologies compatibility. It is compatible with Google Chrome, Mozilla Firefox, Apple Safari, Opera, Microsoft Edge, IE 11 or above, JAWS, and NVDA (screen readers), both for Windows and MAC users.
Speak with a Click IT Representative for a Demonstration and to Learn How to Get Your Website Using this Amazing AI Technology, or call us at 1-(800) 368-7416.